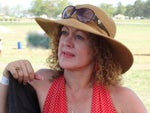 Benita Dodd
Georgia Public Policy Foundation
VP
Marietta, Georgia
georgiapolicy.org
'Let's never climb Everest. Cos there's nothing higher on Earth after that..." -- WTN
*This is my PERSONAL Facebook page, with MY views, not my employer's.
*Life without love is like food without taste.
*There is all the difference in the world between treating people equally and attempting to make them equal - Hayek

Benita Dodd Cotton is a journalism graduate of Rhodes University in Grahamstown, South Africa, who immigrated to the United States in 1986. The Cobb County resident was an editorial writer and columnist for The Atlanta Journal Editorial Board and an editorial writer for The Atlanta Journal-Constitution Editorial Board before leaving to join the Georgia Public Policy Foundation as vice president in March 2003. In addition to heading the Foundation's Communications, she heads up the Foundation's Environmental Initiative, which includes transportation, water, air, energy and land use.

She is a member of the 2007 class of Leadership Georgia, a faculty member of the Leadership Institute of Virginia, was a board member of Common Cause Georgia and 2009/2010 chairman of the Health Care Committee of the Government Affairs Council of the Georgia Chamber of Commerce. She servess on the advisory board for America's Future Foundation.